Our School uses "Compass School Manager" and can be accessed by our parents by clicking the link below. We also use the "Compass School Manager" iPhone and Android App to help us communicate more effectively with our Parent/Student community.
https://kunyung-vic.compass.education/
We advise all of our parents/students to install our "Compass School Manager" App.
To install it, just search for Kunyung Primary School "Compass School Manager" in either the Apple App Store, or Google Play Store.
Click here to see policies (A - G)
Click here to see Child Safe Standards Policies
Our canteen has undergone a huge transformation in order to be focussed on healthy eating and preservative free food. We aim to provide a variety of home cooked menu choices for the students and a freshly baked range of muffins and slices. The canteen operates three days a week (Wednesday, Thursday and Friday) and wecomes parent volunteers to assist on each of these days. A roster exists within the school for parent volunteer helpers. Parent class contacts organise these when it is their classroom's opportunity to assist. Please contact your child's classroom contact parent if you would like to help in the canteen.
The canteen has gone online for all ordering for students. Please click on the button to be directed to the Kunyung Ordering Portal.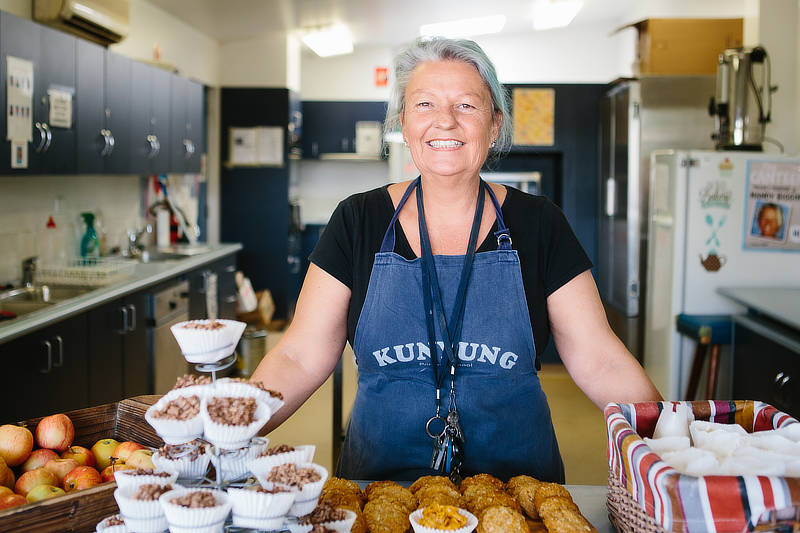 Kunyung Primary School has a First Aid officer on duty at recess and lunch time. Before school, during class time and after school other staff are on call to assist all staff, students and visitors to our school.
During Recess and Lunch students are encourage to speak to the yard duty teachers for minor accidents in the yard before entering the first aid room. All yard duty teachers contact the school office for more serious accidents should they occur.
Medication at School
There are times when children require medication during the day. We are happy to administer medication. Please see the Office staff if you wish medication to be administered. All medication must be stored in the office.
Allergies
Some people are highly allergic to food, bees and insects. Severe cases that have been medically diagnosed are referred to as Anaphylaxis. If your child has been medically diagnosed you must provide the school with an action plan from the doctor and supply the school with a current epipen.
Asthma
This is a very common condition. If your child suffers with Asthma, please supply the school with an Asthma Management Plan and ensure that you student always has their medication with them at school.
Any specific medical plan required for your child requires the teacher, parent, student to complete a Health Care Plan so that all students receive the best care possible.
The Uniform Shop is operated by Peninsula Uniforms & Embroidery and is open on the following days:
Monday – Friday  –  7:30am – 4:30pm
Purchases can be arranged via email to: accounts@peninsulauniforms.com.au.
Payments can be made with Peninsula Embroidery & Uniforms either:
– over the phone or
– by including payment details within the email.
(All prepaid orders will be left at the office for students and/or parents to collect on the following Tuesday.)
A representative from Peninsula Uniforms & Embroidery attends the school every Tuesday between 2.30pm – 4:00pm.
Limited samples and sizes are available at school during these times and orders can be placed directly with the representative. Cheques cannot be accepted. Please see the attached price list for more information.
Bring Your Own Device (BYOD) Program
At Kunyung Primary School our focus is to provide tools and resources to the 21st-Century Learner. A successful BYOD program requires technology to be seamlessly integrated throughout the school's curriculum. The individual use of personal devices is a way to empower students to work to their full potential and develop essential learning habits with the support of digital tools. Our BYOD program is available to all students in Grades 3 to 6. The Prep to 2 classrooms are allocated laptops so that small group, skills focussed workshops can teach the basic computer skills required for student to effectively use this technology.
This section provides parents with essential information regarding the implementation, management and operation of our BYOD program. As an extension of the program, we have developed provided links and guides that explain some fundamental prcesses parents/guardians may need to know.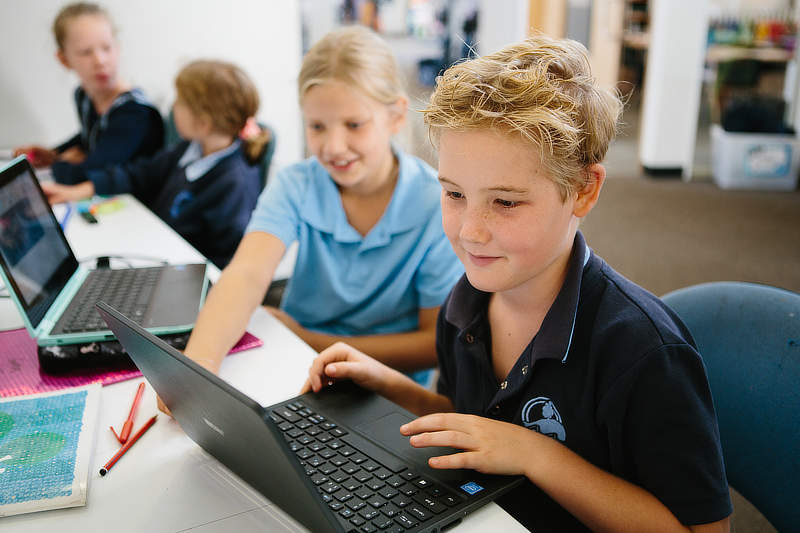 Use the above portal to choose a suitable device for students at school. The school code is: kunyung2020
COMING SOON
Policies, Agreements and Fact Sheets
COMING SOON
Buying Guides, device set up information, tips, etc
COMING SOON
Required Programs, useful tools & apps
COMING SOON
Useful BYOD & technology information for parents
COMING SOON
Find the answers to your questions
Tips for Keeping Your Child Safe
Here are a few helpful tips to ensure a safe online gaming experience for your child.
Check the age rating of the games your children are playing and ensure games are age appropriate.
Advise your child not to share personal details online or in their profiles. In the case of teens, it may be best to discuss the dangers of sharing information online.
Encourage your child to play fairly and treat other gamers with respect.
Use family safety settings to protect your child from discovering games which may not be age/content appropriate.
For many parents it is useful to agree time limits on gaming with their children.
Playing games online can leave computers/devices open to risk of a virus. Protect your computer by ensuring you have up to date anti-virus software in place.
Ensure your child knows how to report or block other players who engage in online harassment or any other unsuitable behaviour.
Click here for link to iParent
Where you can learn about the digital environment and how to help your child have safe and enjoyable online experiences.